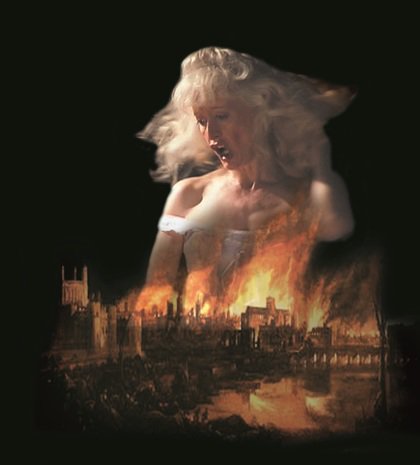 A solo play about Elizabeth Pepys.
Presented by Take the Space.
This performance commemorates the 350th anniversary of Elizabeth Pepys's death on 10th November 1669 and celebrates 'my wife', the clever, loyal and witty muse who made her husband great.
Over the flames of a candle, a woman holds her husband's diary: 'You will not live through this fire' she whispers.
And then the wife of Samuel Pepys, Secretary to the Admiralty and Fellow of the Royal Society, relents and reads... the joys and trials of their household, the gossip of the Court, the horrors of the Great Plague, the flames of the Fire of London, the antics and betrayals of a serial adulterer - her husband.

This is Elizabeth's dark night of the soul (everywoman has them, from bag lady to queen).
Fifteen figures of the Pepys circle come to life - from the highest in the land to the most menial.
Directed by Chris Barnes, written and performed by Siobhán Nicholas.
WHY? 'Humorous, bawdy, moving and fascinating' The Portsmouth News
'A beautiful and sensitive portrayal… this was storytelling of the highest order' Chichester Observer
'Passionate... remarkably contemporary' Sarah Jane Downing, Arts Issue Bath
From the company who brought Hanging Hooke, STELLA and White Feather Boxer to Norden Farm.
Studio
£14 (£12 Supporters)
Presented byTake the Space