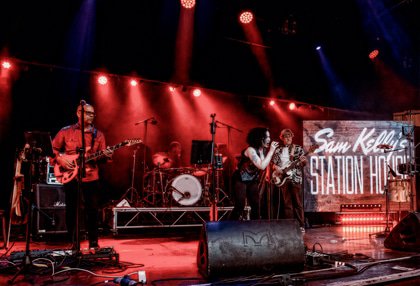 Internationally recognised, legendary drummer, Sam Kelly has been a professional musician for more than forty years.
His Station House band has been featuring on the UK/Worldwide music scene for many years. Originating from the Station Tavern in London during the early nineties, Station House has seen a wealth of quality musicians come and go over the years, all with one constant goal in mind - to mix instinctive funk/soul rhythms with the diversity of the blues.
In 2019 Sam re-launched the band as a four piece featuring Sam Kelly (drums/bvs), Richard Sadler (bass), Tony Qunta (guitar/vocals) and Rowena Poole (lead vocals) and this format continues to work at venues and festivals all over Europe/UK.
Sam Kelly's Station House is a blues-based 'groove' band with a unique sound that is influenced by New Orleans Second Line, soul, jazz and British funk. The show centres around tracks from their latest album No Barricades featuring the works of TW Henderson plus songs from Johnny Guitar Watson, Keb Mo, Average White Band and Labi Siffre, to name but a few.
Sam Kelly's Station House are funkin' off the blues!
'Some of the best - and I mean best - musicians in the UK… or anywhere, come to that' Paul Jones (The Blues Band, Manfred Mann)
'Groove so smooth it's on rails' Rhythm Magazine
'Sam Kelly's craftsmanship and musicality create a broad spectrum of moods & his dynamism brings every number vividly to life' Echoes
'Full of vim and vigour - a masterpiece of musicianship' Blues Matters
'A long time coming but Sam Kelly's Station House deliver a positive stunner' Music News
'There's a hell of a lot to like' Rhythm & Booze
'Excellent and varied' Blues in Britain
Studio
£15
Sam Kelly's Website.
@kshouse6
@nordenfarm