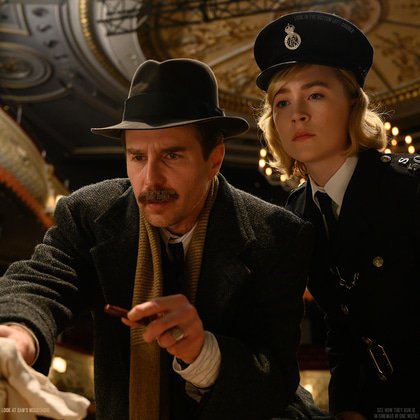 Dir: Tom George 2022 | 98 mins
The West End of London, 1950s. Plans for a movie version of a smash-hit play come to an abrupt halt after a pivotal member of the crew is murdered.
World-weary Inspector Stoppard and eager rookie Constable Stalker take on the case. The two find themselves thrown into a puzzling whodunit within the glamorously sordid theatre underground. Investigating the mysterious homicide at their own peril.
Stars Saoirse Ronan and Sam Rockwell.
'Everything works a charm – and the delightfully playful tone of it keeps things nice and frothy' ★★★★ Entertainment
£10.50 | £9.50 conc
Talking Tables
The screening on Tues 25 Oct at 8pm is a Talking Tables screening. These events aim to bring people together in a relaxed environment to discuss films, share ideas and most importantly - to meet new people! It is particularly aimed at people coming to Norden Farm on their own, but all are welcome. To take part, simply book in to see the screening, then join the group in the foyer before and after the film.
Relaxed screening
The screening on Tues 25 Oct at 2pm is Relaxed - everyone is welcome to join us for this friendly format. The lights are kept on low and the audience are free to move around, make noise or come in and out of the theatre as needed.