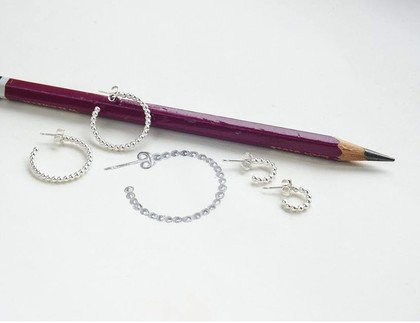 Led by Fiona Dowling
Join Fiona from Jewellery Moves & enjoy a day of design, creativity and making. At this workshop you will learn how to saw, solder, file, hammer, hand-stamp and finish your own collection of sterling silver earrings. You will leave at the end of the day with a beautiful selection of earrings (hoop, stud and dangly).
Taught by Fiona Dowling, a graduate of the Royal College of Art, Jewellery Moves workshops aim to teach traditional craftsmanship, jewellery skills and techniques in small groups with a relaxed atmosphere.
Thur 20 Apr
11am - 4pm
£80
The cost of the silver is not included in the course fees. The approximate cost of these materials is £30/£40 and payable to the tutor on the day (ideally in cash).
Please make sure that hair is tied back, please wear closed shoes and bring your glasses if you wear them.
Suitable for 18+ years