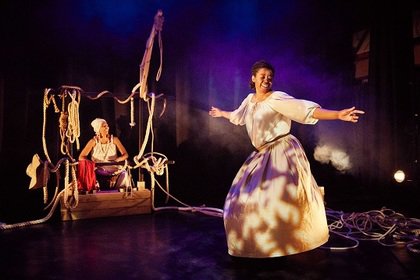 Presented by Kuumba Nia Arts.
The true story of one woman's extraordinary journey to overcome the brutality of slavery.
Mary Prince was born into slavery in the British colony of Bermuda. She went on to become an auto-biographer and champion of freedom. Her book had an electrifying effect on the abolitionist movement helping to free many Africans in bondage.
This is a masterpiece of Black British theatre, inspired by the storytelling traditions of the West African Griot.
Winner - Best Ensemble Award at the Musical Theatre Awards, Edinburgh Festival 2019
Winner - Lead Performance and Supporting Performance in a Play, Offies 2022
Winner - Show of the Week, VAULT 2020
Winner - Best Show, Birmingham Fest 2021
Courtyard Theatre
£16