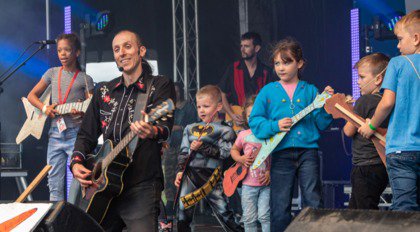 Looking for something Spooky to do over half term? Why not introduce your little one's to the magic of live music.
Johnny and the Raindrops play gigs for cool kids and their families. The band's jump-up-and-down-rocking-and-rolling-can't-sit-down-best-time-ever music is brought to life with a whole heap of help from the audience.
Full of spooky songs to get you and the kids shakin' like a Skeleton, moanin' like a Zombie and stompin' like a Monster. Johnny and the Raindrops promise to get children and grown-ups dancing and moving, singing and grooving.
Meet the monster with 12 belly buttons, fall in love with the bat with the broken wing and wiggle along with the five Halloween worms.
Age guidance 0 - 8 years.
Studio
£12 | £10 under 16s
Family and Friends (4 people) £40
Tickets for children under 18 months
For this show, tickets/seats are not required for children under 18 months who are happy to sit on laps