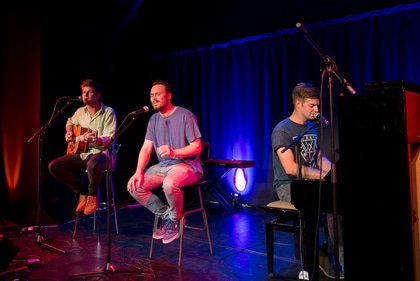 Part of the Farm's programme to support emerging musicians. Local acts play three numbers – at least one of which is an original.
If you would like to perform at this summer's event, please email some clips of your music to [email protected].
WHY? An unmissable evening of live acoustic music in our intimate Studio space

Studio
£5
The Line-Up
Tara Deane
Tara Deane is our wonderful MC for the night! Tara is a singer songwriter from Maidenhead. She has been performing all over the UK for nearly 8 years and you'll regular find her capturing audiences with her honest lyrics and upbeat melodies.

Alfie Griffin
Alfie Griffin is a singer songwriter who crafts original songs with strong influences of Jimi Hendrix, John Martyn and Nick Drake. Alfie has been in the music scene for half a decade playing in various venues in Berkshire.
Rona Topaz
Singer, songwriter and actress Rona Topaz performs a mixture of original material and covers which remain timeless and relevant in these turbulent political times. Recently she appeared in and was musical director for Liberty, the untold story of Kath Duncan, who founded the first ever civil liberties union in the UK.
Anne-Marie Gilliet
Anne-Marie has been a singer songwriter for around 60 years. She sings from the heart, with melody and lyrics inspired by jazz and her life.
David Vachell
David Vachell is a Maidenhead based singer songwriter who is inspired by the folk movement of the 60's. He believes that music is a way to connect ourselves with things that really matter, especially simply having fun.
Harrison Stevens
Harrison enjoys playing alt/indie rock music, influenced by a range of artists, that the audience can expect to sit back and chill out to during his set.

Completing the line up is Liam Barnes.