Lexicographer - Best Selling Author – Queen of Dictionary Corner
Take a journey into the curious, unexpected, and downright surreal origins of the words we use every day. Susie will retell the adventures that lie hidden within such words as lasagne (involving a chamber pot) and bugbear (a terrorising monster), and explain such oddities as the silent h in ghost and the mysterious disappearance of kempt, gormful, and ruly (and yes, you really can be gruntled). She will look to the lexicon of the past to fill some of today's linguistic gaps – such as the frenzied fit of tidying we all do just as guests are about to descend (that's a scurryfunge).

Alongside such forgotten stories you will hear Susie's selection of the funniest moments from her 25 years on Countdown and 8 Out of 10 Cats Does Countdown, as well as some startling results from eavesdropping on a group of waiters.

Each evening will include some of Susie's favourite words from the towns and regions she visits, and she'll be asking the audience for theirs. In fact, she'll be welcoming any questions about word origins, usage irritations, the dreaded impact of Americanization, and the very future of our language in her very own 'word surgery'.
WHY? 'Funny, fact-filled and delightful' Jonathan Ross
'Wonderfully clever and funny... a national treasury from a national treasure Richard Osman
'Susie Dent is a one-off. She breathes life and fun into words' Pam Ayres
Disclaimer: Susie explores the many meanings and origins of everyday words including a short section on swearing. Some may view it as unsuitable for the younger ears.
Courtyard Theatre
£20
M
S
The Vinyl Frontier: Your Favourite vs My Favourite
Hosted by Jeff Lloyd.
Seven challengers choose a song from a category of their choosing (e.g. country, classic rock, novelty, 80s synth pop etc) and challenge Jeff to a battle of taste with the audience voting for their favourite.
Other Vinyl Frontier Events This Season
Your Best of Abba
Lucky Dip
Battle of the Bands
Your Favourite Vs My Favourite
Studio
£10
C
S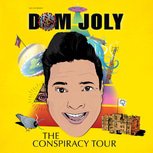 Dom Joly - Conspiracy Tourist
Dom Joly has been off travelling the globe again. This time, he's been looking into some of the strangest and weirdest conspiracy theories in existence.
'Just because your paranoid doesn't mean you're not being followed!'
Now, he's now set to embark on a rather unique theatre tour, where Dom will be providing a hilarious, fascinating, and slightly anarchic guide to the wacky world of conspiracies.
1. Is the earth flat?
2. Does Finland exist?
3. Did JFK commit suicide?
4. Are Q Anon mentally ill?
5. Is Bill Gates using vaccines to take control of your mind?
6. Is Denver Airport a massive panic room for the Illuminati?
7. Are UFO's piloted by lizards?

In the spirt of fairness, Dom will also be inviting a well-known and highly respected conspiracy theorist, Dr Julian Northcote, to take the stage and defend the alternate view.

Due to the extremely controversial views aired in the show, security will be at an optimum and audiences are warned that angry demonstrations are very likely – or is that just another conspiracy?!
Courtyard Theatre
£25
S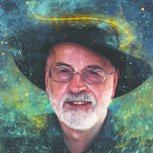 The Magic of Terry Pratchett
Join author and comedian Marc Burrows on a journey through the life and work of Sir Terry Pratchett.
Based on his Locus award winning biography and officially endorsed by the author's estate. Explore Pratchett's life, influences, impact, wit and wisdom, from his days as a school librarian to his time as a trainee journalist to his untimely death from Alzheimer's in 2015. Celebrate the 40th anniversary of Discworld and discover the joy, anger, and delicious cock 'n' bull stories of one of the greatest storytellers of all time.
Warning: includes bad puns and unnecessary footnotes.
Studio
£15