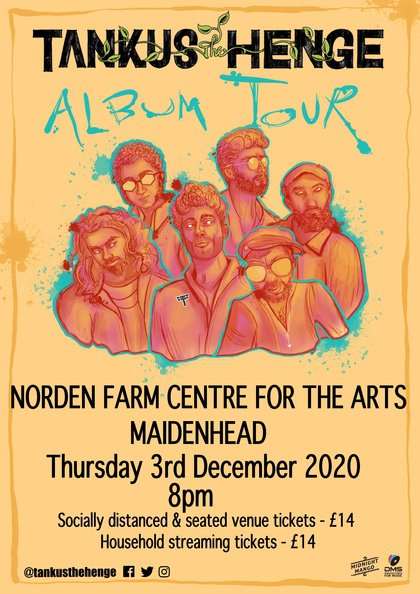 Tankus the Henge perform their only show in 2020 since lockdown began.
A genre bending, never ending, furious and joyous force. Normally on the road most of the time, defined by movement, groove and the search for adventure, Tankus the Henge have been making and breaking their own rules for a while now.
Originally based around the songwriting of singer/pianist Jaz Delorean and inspired by the hard graft ethics of an early 20th Century travelling show, Tankus the Henge will often play upwards of one hundred gigs a year in Europe. They have performed on stages across the world, from New Orleans to Albania, most places in between, including Glastonbury Festival, Montreux Jazz Festival, WOMAD, and countless others.
Their funk-fuelled repertoire is wildly eclectic, ranging from explosive rock riffs to New Orleans swing, and an insatiable love for a good singalong round the piano.
WHY? They will be performing their brand new album Luna Park! in full, along with other songs from their decade long repertoire
Attendees to the show will have the opportunity to purchase the new album the night before it is released. The entire performance will also be streamed in high quality.
Courtyard Theatre and Livestream
£14
Tankus the Henge's Website

'A virtual carnival of sound that's high on energy and deep on soul. With copious helpings of R&B, blues, funk, disco, Django, a dose of Dexy's, a drop of Ray Davies and a pinch of Madness… – it's an exciting mélange of sound' The Guardian
'Tankus the Henge have a reputation for whipping crowds into a frenzy, and penning choruses it's impossible not to sing along to' Metro (top 10 acts to see at Glastonbury)

'That's wonderful, ..I love that. It reminds me of a mixture of early Kinks, Squeeze and a bit of Blur mashed in. His voice is his own, …so great. I love it' (Smiling Makes The Day Go Quicker) Dave Davies, The Kinks

'Like The Clash from New Orleans' Nikolaj Torp Larsen, The Specials
---
In line with current government guidelines, this event has a reduced capacity with socially distanced seating. This is subject to change as we monitor government advice. Seat numbers are also subject to change.
Please prepare for your visit by reading our latest Visitor Information here. This includes important information about face coverings, social distancing and measures we have implemented to keep everyone safe when visiting Norden Farm.
---
If you have booked a ticket to watch from home via our website, you can access the live stream on the night of the event by clicking here and logging in to your Norden Farm account.
Click here for a guide to accessing live streamed events and for information on allocating tickets purchased for other households.