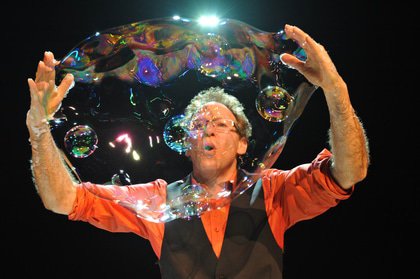 A show combining comedy, artistry and audience participation with enough spellbinding bubble tricks to keep everyone mesmerized.
From square bubbles, bubbles inside bubbles, fog-filled bubbles, giant bubbles, bubble volcanoes, tornados and trampolines to people inside bubbles, the Amazing Bubble Man conjures shrieks of laughter and gasps of amazement from all ages.
WHY? An Edinburgh festival favourite, San Francisco performer Louis Pearl sells out every year
Suitable for all ages.
£10 (£8 under 16s), Family & Friends (4 people) £32
Courtyard Theatre