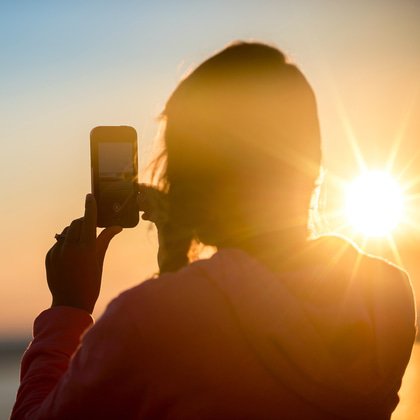 Led by Elena Garcia-Juan
A brand new course to enable you to start using your smartphone more creatively and to think critically about photography. The perfect way to improve your knowledge and experience of using your smartphone / tablet's functions. The sessions will cover elements such as composition and lighting, and give you a sound general knowledge of photographic skills.
At its heart, mobile photography is about fun. The joy of having a camera available at those moments you want to keep is what it's all about!
Gain confidence in using, controlling and manipulating smartphone's cameras. Both technical skills and creating great photos will be covered in an accessible way, with a view to applying the skills learnt in your own environment.
Suitable for all abilities - from beginning photographers, lifelong learners, travellers and explorers!
Fri 5 Mar - 26 Mar
7pm - 9pm
£64 per 4 week course
Booking cut off time: 6pm on the day of the session
You will need:
To ideally be familiar or able to have a Pinterest account. However, it's not a must, because you can share your photos from your devices in Zoom.
Any type of smartphone can be used. Some devices will have better and more advanced cameras than others, but this is not a downside for the course because photography is common for all.
---
How do our online classes work?
The classes will take place via a video stream on Zoom where you'll be able to use the camera and audio on your tablet, laptop or other device to see and hear the tutor and other participants.
You simply need to book on to your class or workshop of choice as normal by the cut off time. We'll then send you a booking confirmation email with a link to your session, password and a meeting ID.
If you'd like to learn more about joining a meeting on Zoom, click here for a handy guide.