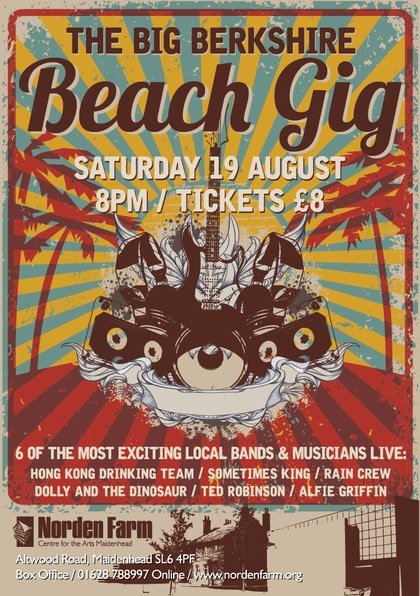 Five of the most exciting local bands and musicians perform on our Courtyard stage and Hawaiian inspired beach.
The evening wouldn't be complete without breaks between the acts - so you can soak up the atmosphere on the beach!
£8 | This is a standing event with some allocated seating.
We are thrilled to share The Big Berkshire Beach Gig 2017 line up which features:
Rain Crew
The Reading based four-piece band are known for thrashing out punk-tinged indie-pop tunes. Band members include Beth Atkinson (vocals, rhythm guitar), Lewis Thomas (drums), Ryan Nicholls (bass guitar) and Mac Sullivan (lead guitar).
Hong Kong Drinking Team
This five-piece indie band is made up of Charlie Ackary, David Yung, Luke Yexley, Jack Badley and James Skinner. Born in Berkshire and styled in Asia, the Hong Kong Drinking Team serve up thick riffs and chilling vocals. They are to be enjoyed irresponsibly!
Sometimes King
Local band Sometimes King write about unusual, historical and sometimes mythical characters, places and events. Every song is a fairy-tale exploration. The band's line up include Ash (vocals, keys), Jeff (bass, keys), Gav (drums, samples), Andrew (synths, guitar) and Damo (guitar).
With beach breaks between the acts featuring acoustic music courtesy of:
Ted Robinson
Singer-songwriter Ted Robinson will be performing a mixture of acoustic covers and originals. Ted originates from Windsor and his influences range from Paul McCartney, Elton John, Noel Gallagher and Billie Joe Armstrong.
Alfie Griffin
A regular at our popular Studio Session, audiences can delight in the fact Alfie Griffin is part of the line up. Join Reading-based Alfie for an alternative, indie blues acoustic set, with influences including Jack White, Jimi Hendrix, Bob Dylan and Mac Demarco.