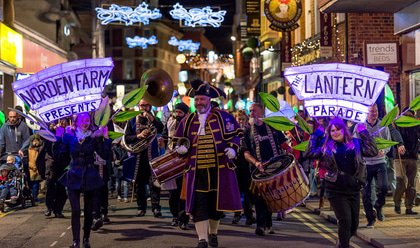 The Carnival of the Animals Lantern Parade returns to illuminate Maidenhead on Saturday 7 December!
Featuring live music and entertainment from The Brass Funkeys who bring pumping brass driven funk to lead you on the route!
Plus street food, licensed bar and hot drinks. Free to attend and open to all! And you don't need a lantern to take part - just come down and celebrate with the community.
Please note that the bar is cash only
Get involved at our Lantern Making workshops, running throughout November and December.
Create an animal inspired lantern by weaving and decorating willow. Our expert lantern makers will guide you through the process and you will have a lantern ready to illuminate at the parade.
---
4.30pm - Live music and entertainment
5pm - Parade departs from Maidenhead Town Hall
5.45pm – 6.15pm - Live music and entertainment continues
6.30pm - 9pm - Lanterns Live Gig featuring The Brass Funkeys taking place in the Desborough Theatre
---
Not taken part in the Lantern Parade before? or have a questions about what it's all about? Download our handy FAQs here
If you can't find the answer you are looking for, give our team a call on 01628 682563
---
Lantern Making Workshops
Town Centre Saturday Drop In Workshops
Short and sweet lantern making - get parade ready in just 20 minutes! Drop in to make and decorate a simple willow and tissue lantern ready to illuminate on parade night
Last chance drop-in workshops Sat 7 Dec | Maidenhead Library 10am - 2pm | £4 per person
---
Lantern's Live: The Brass Funkeys plus support
Saturday 7 December 6.30pm – 9pm
Tickets £3 | Desborough Theatre, Maidenhead Town Hall
Fresh from leading Norden Farm's Lantern Parade, The Brass Funkeys headline our Lantern Parade Live gig with pumping brass driven funk to get you dancing!
The Brass Funkeys bring together some of the most talented musicians in London in an eclectic live show bursting at the seams with ideas and infectious energy.
The night features a line up of local live talent ahead of the headline act. Plus street food from Yourz to Eat, a licensed bar and hot drinks
Find out more here.