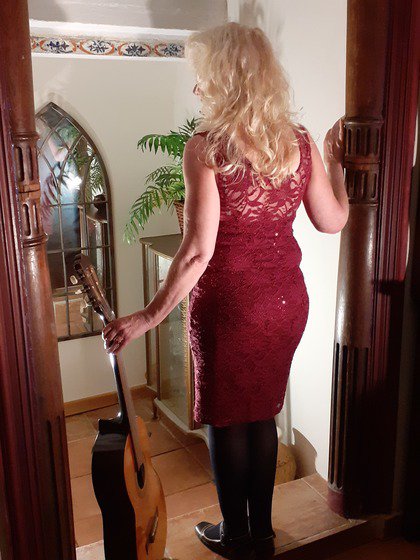 A sneaky first peak at Take the Space's work in progress with film, zoom, country music, classical music and two angels on guitar and harmonica!
A dyslexic woman, aged 60, realises, after months of hell working in a care home, that she can face anything now - even her demons of literacy. Niamh is ready for her first challenge - the words and chords in her Dolly Parton songbook. The iconic star is her hero and she'd like to sing Dolly's songs at The Country Music Festival in Blackpool but she'll need a lot of help which is why she asks the local choir master for music lessons. To her surprise, Norman agrees to coach her but on condition she joins his choir. Niamh has never sung posh music before and she's scared that they'll all find out about her.
This is the story of a woman, who with grit and courage, resolves to grab a bigger life before it's too late; a journey of transformation, inspired by Dolly Parton's own narrative. This is also the story of an unlikely friendship; a woman and a man, both lonely and isolated, learning how to live with grief.
We're inviting our audience to be part of the creative process and contribute to a post show discussion, chaired by Jane Corry, artistic director of The Farm who with her team are supporting us in testing out this workshop pilot.
Studio and Live Stream
£10
---
If you have booked a ticket to watch from home via our website, you can access the live stream on the night of the event by clicking here and logging in to your Norden Farm account.
Click here for a guide to accessing live streamed events and for information on allocating tickets purchased for other households.
Recording of the show is strictly prohibited.