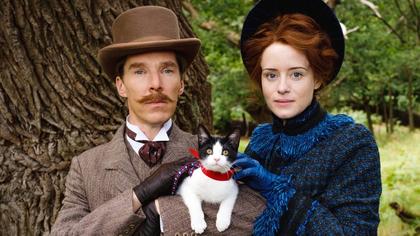 Dir: Will Sharpe 2021 | 111 mins
Louis Wain (Benedict Cumberbatch) is an eccentric Victorian artist. His popular, playful, drawings of cats transform the public's perception of cats from mysterious to irresistible. His art also supports his widowed mother and five younger sisters. His skilled and speedy portraiture impresses, but his often stormy view of the world and those in it keeps him from engaging much with society.
That is, until he hires a kind, curious governess for his youngest sisters, Emily Richardson (Claire Foy). She illuminates his life in a way even he'd never imagined. Love blooms across the class divide — albeit to the chagrin of Louis's stern sister Caroline (Andrea Riseborough).
Olivia Colman narrates this extraordinary true story.
£10.50 | £9.50 conc
Three Films Ticket Offer
£9 / £8 conc tickets when you book for three films at the same time. Offer excludes event cinema screenings. Offer applied in basket.
Socially Distanced Screening
The screening on Thur 17 Feb at 2pm is socially distanced with a reduced capacity. Face coverings must be worn in the auditorium for this screening. No food and drink can be taken into the theatre at this screening.
Talking Tables
The screening on Tues 15 Feb at 8pm is a Talking Tables screening. These events aim to bring people together in a relaxed environment to discuss films, share ideas and most importantly - to meet new people! It is particularly aimed at people coming to Norden Farm on their own, but all are welcome. To take part, simply book in to see the screening, then join the group in the foyer before and after the film.
Please prepare for your visit by reading our latest Visitor Information here. This includes important information about face coverings and measures we have implemented to keep everyone safe when visiting Norden Farm.