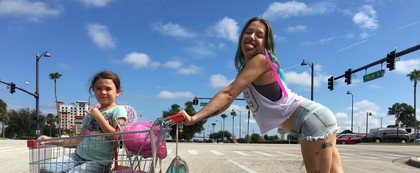 Dir: Sean Baker 2017 | 111 mins
Six-year-old Moonee and her rebellious mother Halley live week to week at a budget motel just outside Disney World. Despite her harsh surroundings, Moonee and her ragtag playmates fearlessly explore the utterly unique world into which they've been thrown. A deeply moving and poignant look at childhood.
WHY? ★★★★★ Empire Magazine | ★★★★★ The Telegraph | ★★★★★ The Independent | ★★★★★ The Guardian
Click here to read The Telegraph's review in full.
£10.50 (£9.50 conc)
Special Ticket Offer
£9 (£8 conc) tickets when you book for three films at the same time. Offer excludes event cinema screenings. Offer applied in basket.