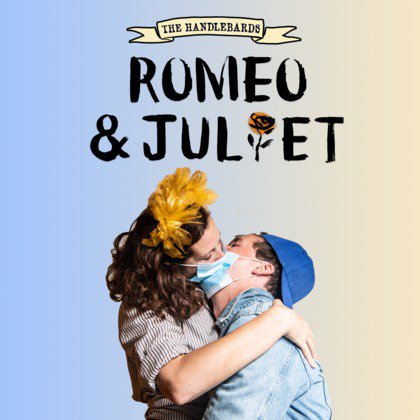 Three actors cooped up together during lockdown.
Fuelled by cabin fever and with a bookshelf full of Shakespeare, they did what they do best and created an unhinged and bonkers, laugh-out-loud version of Romeo & Juliet.
With music, mayhem and more costume changes than you can shake a spear at, expect the HandleBards usual irreverent, charming and hilarious style to come bursting onto the stage at Norden Farm.
WHY? Forget the tears and tragedy, and get ready for some live and wired Shakespeare as you've never seen it before.
Online streaming tickets are also available for this event – so you can enjoy the show live from the comfort of your home
'An exceptional touring production…explodes with energy and is a genuine treat from start to finish'  The Stage, on the HandleBards' Twelfth Night
Courtyard Theatre and Livestream
£15
Booking cut off time: 7pm Thursday 11 February
In line with current government guidelines, this event has a reduced capacity with socially distanced seating. This is subject to change as we monitor government advice. Seat numbers are also subject to change.
Please prepare for your visit by reading our latest Visitor Information here. This includes important information about face coverings, social distancing and measures we have implemented to keep everyone safe when visiting Norden Farm.
---
If you have booked a ticket to watch from home via our website, you can access the live stream on the night of the event by clicking here and logging in to your Norden Farm account.
Click here for a guide to accessing live streamed events and for information on allocating tickets purchased for other households.
Recording of the show is strictly prohibited.