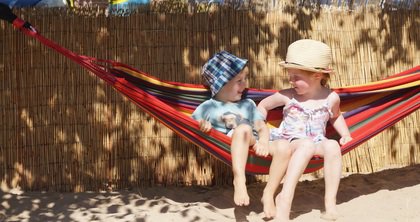 The ever popular Maidenhead Beach is back, all summer long – inspired by the laid back tropical paradise that is Goa.
[This is an archived event from 2019]
---
It's free to play on every day with beachside tables available for snacks and lunch from the Cafe Bar (including children's picnic bags).
For maximum chill out, explore the indoor chill out space in our Gallery, featuring work from local schools. Lie back and enjoy projections in the fisherman's hut or decorate a mandala whilst relaxing on a beanbag. The exhibition is suitable for everyone, including children with SEND.
All of this and a full programme of family films and live events, the Goan Beach is the perfect place to pitch up this Summer.
The Beach has been designed and handmade by Norden Farm with the help of the community.
---
Peel yourself off the beach and get creative with your little ones in our daily Beach Craft sessions:
Arts and Crafts (45 mins) | £5 per child Monday – Saturday 10am
Or sit back and relax with them in the story den for our Storytelling sessions:
Storytelling (20 mins) | £2 per person Monday – Saturday 11am and 1.30pm
---
The Community Kite Festival is a free event taking place in Boyn Grove Park (Punt Hill) on Sunday 1 September – everyone welcome! The festival runs from 1pm – 4pm.
The workshops are led by specialist kite makers, Community Kite Project.
In these drop-in sessions our practitioners will guide you through the process of making either the Patang Kite – the Indian Fighter Kite, or a classic Trapezoid Kite.
Make and decorate your kite to stand out in the sky at the Community Kite Festival which takes place in Boyn Grove Park on Sunday 1 September.
Kite Making Workshops
Wednesday 7 August | 11.30am – 1pm and 2pm – 3.30pm
Wednesday 14 August | 11.30am – 1pm and 2pm – 3.30pm
Saturday 24 August | 11.30am – 1pm and 2pm – 3.30pm
Workshops are suitable for all the family and tickets are £3.50 per person.
Please note a space must be booked for every person attending the workshop, including supervising adults.
Click here to visit our drop in workshop booking page.
---
A photographer representing Norden Farm may be present throughout the summer holiday at The Maidenhead Beach.
These images may be published by Norden Farm in the press and on social media platforms. Images may also be used for external distribution and used in marketing materials including, but not limited to, brochures, flyers, adverts and banners.
If you are visiting The Maidenhead Beach and would rather not be in our photos, please speak to our Box Office team when you arrive.
---
With thanks to our funders: RBWM, The Spoore Merry and Rixman Foundation, and The Cyril Taylor Charitable Foundation