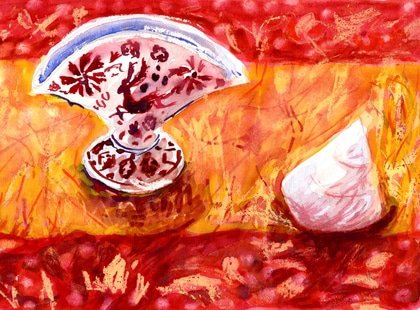 Led by Jo Hall
Even a small area of bright red can have huge impact. We'll look at how red has been used by well known artists including Matisse, Mondrian, Georgia O'Keeffe and Paul Klee, discovering how different reds interact with each other and with other hues. Experimentation will be followed by painting a still life, floral or imaginative/abstract painting where red plays a key role in the composition. Choose to work in watercolour, gouache, or pastel and scroll down for further information.
Oil pastel could be used as a resist with watercolour or ink.
Please bring your own materials and scroll down for more information.
Sat 22 Jul
11am - 4pm
£40
Suitable for 18+ years
All participants will need
Drawing board; table easel or block to angle the board
Paints or pastels and appropriate paper support: you may like to experiment with red paper
Small sketchbook for colour notes
For watercolour or gouache also bring
Watercolours or gouache plus a tube of permanent white (titanium white) gouache
Brushes, palette and water pots,
Watercolour paper cold pressed (NOT) 300gsm or heavier
Paper towel, masking tape
For pastel also bring
Soft pastels
Paper towel, masking tape or clips to attach paper to board
Spray fixative to be used outside only for soft (chalk) pastels
Not essential; blending tools or brush
To use oil pastel as a resist just bring a few oil pastels including reds, white and black and the watercolour/gouache and equipment as described above