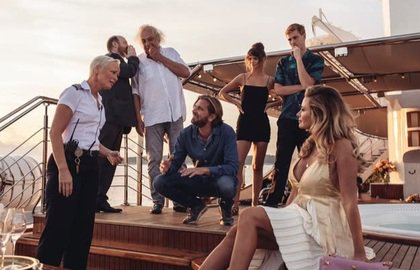 Dir: Ruben Östlund 2022 | 147 mins
Celebrity model couple Carl (Harris Dickinson) and Yaya (Charlbi Dean) are invited on a luxury cruise. It is helmed by an unhinged boat captain (Woody Harrelson).
They are joined on board by uber-rich passengers including a Russian oligarch and a British arms dealer.
What first appears as an Instagrammable trip of a lifetime, soon ends catastrophically. The survivors are stranded on a desert island and fighting for survival.
Social hierarchy is turned upside down in this wickedly funny Palme d'Or winner. From the director of Force Majeure.
'A truly funny film' ★★★★ Daily Mail
'We are here to have a good, disreputable time' ★★★★ Irish Times
'The Swedish provocateur once again taking paw-swipes at privilege with a vomit-fuelled satire of the super-rich' ★★★★ The Scotsman
'As much a farcical comedy as it is a searing indictment' ★★★★ Empire
Talking Tables
The screening on Tues 13 Dec 8pm is a Talking Tables screening. These events aim to bring people together in a relaxed environment to discuss films, share ideas and most importantly - to meet new people! It is particularly aimed at people coming to Norden Farm on their own, but all are welcome. To take part, simply book in to see the screening, then join the group in the foyer before and after the film.
Socially Distanced Screening
The screening on Tues 13 Dec 4.30pm is socially distanced with a reduced capacity. Face coverings are optional. Food and drink from our Cafe Bar can be taken into the theatre as normal.