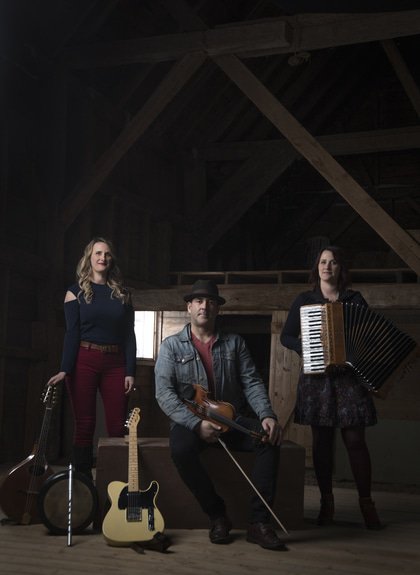 Twin sisters Emmanuelle and Pastelle LeBlanc, from Prince Edward Island, join forces with Pascal Miousse - a direct descendant of the first colonial families to inhabit Quebec's remote Magdalene Islands.
Tight sibling harmonies, layered foot percussion and a compelling trademark blend of fiddle, guitar, accordion, whistles, piano, bodhrán and jaw harp create an expansive sound that triumphantly defies the parameters of a trio.
Whilst all three are from a rich musical upbringing and heritage, their take on their musical traditions looks forward as much as it looks back. The Cajun tradition - spread by Acadians throughout America - mixes with Celtic and world strands, altogether redefining the possibilities of French-Canadian folk.
WHY? A live show that combines song-writing elegance with the dynamism of three experienced and truly passionate performers
Studio
£14 (£12 conc)