As the days grow short and the evenings long, dark are the days of Wintertide.
Explore the snowdrifts and enjoy free family activities as the Gallery is transformed into a Nordic wonderland inspired by Tove Jansson's Moominvalley.
The exhibition features entries from our annual Art Competition. It is curated and created by professional artist Benedict Romain and students from the local college BCA.
Entry is free.
C
C
V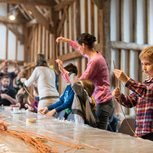 The Carnival of the Animals - Lantern Making Workshop
Get ready to join the parade!
Weave and decorate willow to create lanterns inspired by the animal world. Lanterns created at these family workshops will be illuminated at Norden Farm's annual Lantern Parade on Saturday 8 December.
Workshops take place throughout November and December:
Norden Farm
Sun 18 and 25 Nov, Sun 2 Dec
10.30am – 12.30pm and 1.30pm – 3.30pm
Maidenhead Town Centre
Sat 17 and 24 Nov, Sat 1 Dec
10am – 4pm (drop in)

Last chance workshop (drop in)
Maidenhead Town Centre
Sat 8 Dec
10.30am – 2pm

Suitable for all ages and all the family.
£4 per person. (Please note a space must be booked for every person attending the workshop – including supervising adults)

Lantern Parade
Sat 8 Dec | Outside Maidenhead Town Hall | Free event!
SOLD OUT
C
V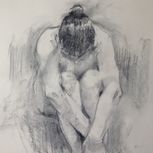 Life Drawing
Led by Harriet Brittaine.
Explore the complexities of the human form by working from a professional life model. With a variety of short and long poses. Learn both traditional charcoal drawing methods and new experimental techniques.
Summer
Sat 19 May, 23 Jun and 25 Aug
2pm – 5pm
£25 per session
Autumn
Sat 3 and 24 Nov
2pm – 5pm
£25 per session
Suitable for 18+ years
C
C
V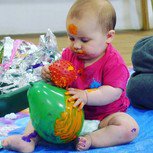 Splat! Messy Play
Led by Clare Lynskey.
Giving children the opportunity to learn and explore through exciting and fun art activities – and we do all the clearing up!
Autumn
Mondays (from 24 Sept exc 8 Oct, 22 Oct, 3 Dec)
11.30am – 12.15pm
£6 | £4.50 siblings | £20 for block booking of 4 sessions
Suitable for ages 6+ months.

If you would like to book the offer price for 4 sessions, please enter a ticket for each date you would like to attend into your basket and the offer will apply automatically