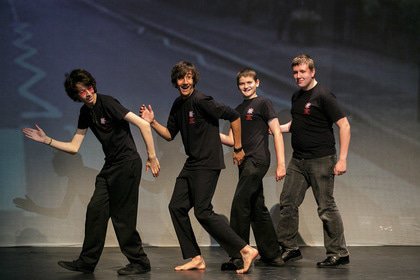 Norden Lights led by Troublemaker Theatre Company.
Your chance to be on stage and in the spotlight!

Join the only youth drama group in Maidenhead which rehearses in a professional theatre!
Our friendly theatre company lead the sessions, where you'll have fun and meet new friends.
Pick up performance skills from stage combat to acting for camera and physical theatre to accents, while working with scripts from famous playwrights or made up by you.

Terms 10 weeks long, no auditions, suitable for all abilities and end with a sharing or showcase.
This Spring term, Youth Theatre - Group A will be working towards a performance of 'A New Time Music Hall'. A collection of performances to entertain, amaze and amuse in the music hall tradition with a modern twist.
Over the course pupils will work on songs and sketches to improve vocal technique, stage presence and theatrical timing.
Wednesdays
4.15pm
£67 per term
School Years 2, 3 and 4
'Gave me the skills and confidence to get into drama school and pursue a career in acting' Lizzy Maillard
'I went on to get a degree in film and theatre, and now teach drama to children myself' Ryan Tomlinson
'Film-making at 15, scripting at 16, and crying that it had to end at 18. 5yrs later, I'm working full-time in television' Kat Mace

Photography credit Luminous Photography.
Click here to visit the Troublemaker Theatre Company website
Click here to download the Youth Theatre Information Sheet.
---