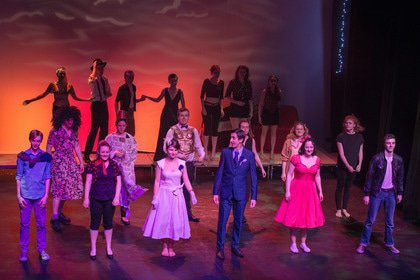 Led by Troublemaker Theatre Company.
Your chance to be on stage and in the spotlight!
Join the only youth drama group in Maidenhead which rehearses in a professional theatre!
Our friendly theatre company lead the sessions, where you'll have fun and meet new friends.
Terms 10 weeks long, no auditions, suitable for all abilities and end with a sharing or showcase.
This Spring Term our Youth Theatre Academy group will be working towards a perfromance of "Shakers Re-stirred" by John Godber and Jane Thornton.
Every town has a Shakers. The oh-so trendy cocktail bar where everybody wants to be seen. We are given a glimpse into the long suffering world of the waitresses and customers that lurk behind the plastic palms.
Wednesdays
6.45pm
£97 per term
School Years 12 and 13

'The Troublemaker gang had me film-making at 15, scripting at 16, and crying that it had to end at 18. 5yrs later, I'm working full-time in television' Kat Mace
'Troublemaker helped foster the creativity I use every day in my animation and video work' James Willis
'Troublemaker gave me the skills and confidence to get into drama school and pursue a career in acting' Lizzy Maillard
Photography credit Luminous Photography.
Click here to visit the Troublemaker Theatre Company website
Click here to download the Youth Theatre Information Sheet.
---
Youth Theatre Academy and National Theatre Connections
We are excited to announce that this year our Youth Theatre Academy Group will be taking part in the National Theatre Connections programme!
The students, with the support of The National Theatre, will work towards staging an exciting new play that will be performed on our main stage, followed by a performance at one of the programme's partner theatres - The Royal and Derngate in Northampton!
Click here for more information about National Theatre Connections.