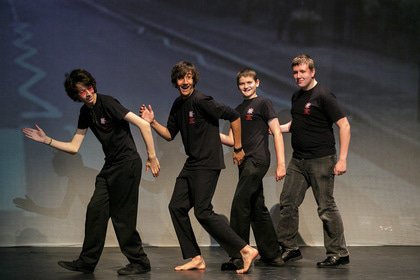 Led by Troublemaker Theatre Company.
Your chance to be on stage and in the spotlight!
Join the only youth drama group in Maidenhead which rehearses in a professional theatre!
Our friendly theatre company lead the sessions, where you'll have fun and meet new friends.
Pick up performance skills from stage combat to acting for camera and physical theatre to accents, while working with scripts from famous playwrights or made up by you.
Terms 10 weeks long, no auditions, suitable for all abilities and end with a sharing or showcase.
Wednesdays
5.30pm
£67 per term
School Year 4, 5 and 6

This Autumn term, Youth Theatre - Group B will take part in specialist sessions on a range of theatre skills including devising, vocal techniques, stage presence, characterisation and much more.
There will be a sharing of the skills and techniques learned for parents on Wednesday 11 December.
Autumn skills workshops:
Week 1: Devising - creating your own stories from scratch
Week 2: Vocal techniques - how to improve your volume and diction
Week 3: Stage presence - how to own the stage and be the centre of attention
Week 4: Characterisation - how to turn your ideas into physical reality
Week 5: Animal characters - including examples from Roald Dahl, AA Milne and Kenneth Grahame
Week 6: Mime skills - performing without using your voice and still being understood
Week 7: Improvisation with props - take inspiration from the objects around you
Week 8: Slapstick comedy – slips, trips and falls without doing actual damage
Week 9: Silly voices - entertain your friends and family with comedy character voices
Week 10: Theatre quiz - a team based practical and mental test of all you have learnt this term

'Gave me the skills and confidence to get into drama school and pursue a career in acting' Lizzy Maillard
'I went on to get a degree in film and theatre, and now teach drama to children myself' Ryan Tomlinson
'Film-making at 15, scripting at 16, and crying that it had to end at 18. 5yrs later, I'm working full-time in television' Kat Mace
Photography credit Luminous Photography.
Click here to visit the Troublemaker Theatre Company website