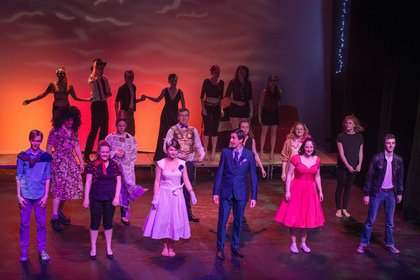 Led by Troublemaker Theatre Company
Your chance to be on stage and in the spotlight!
Join the only youth drama group in Maidenhead which rehearses in a professional theatre!
Our friendly theatre company lead the sessions, where you'll have fun and meet new friends. Each term you'll create a show and perform in our studio or on the main stage, with lighting, sound and staging from Norden Farm's technical crew.
Pick up performance skills from stage combat to acting for camera and physical theatre to accents, while working with scripts from famous playwrights or made up by you.
Terms 10 weeks long, no auditions, suitable for all abilities and end with a sharing or a performance.

'I started with Troublemaker at 10yrs old, although acting wasn't for me but offered many opportunities. From that followed a scholarship to drama school and many jobs, of which Troublemaker are still always a key part of interview chat. I continue to wear their t shirts with much respect and love. Please ask me back soon' Hilary Williamson, Head of Stage at Young Vic Theatre

£97 per term
School Year 8, 9, 10 & 11
Photography credit Luminous Photography.
Click here to visit the Troublemaker Theatre Company website