Cpd: Teaching Poetry In Primary Schools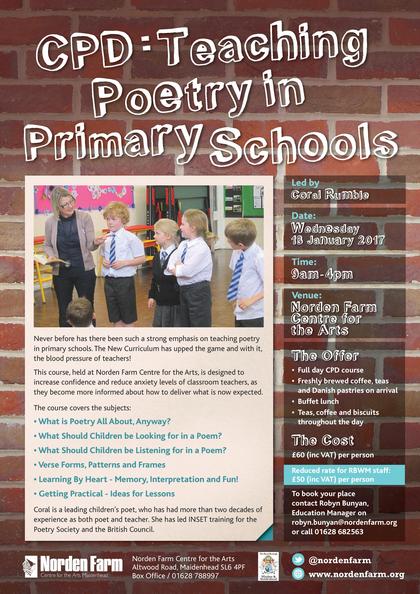 New for 2017, Norden Farm hosts a CPD session, focussing on teaching poetry within primary schools led by leading children's poet, Coral Rumble.
Coral has had more than two decades of experience as both poet and teacher. She has led INSET training for the Poetry Society and the British Council.
Course Content
• What is Poetry All About, Anyway?
• What Should Children be Looking for in a Poem?
• What Should Children be Listening for in a Poem?
• Verse Forms, Patterns and Frames
• Learning By Heart - Memory, Interpretation and Fun!
• Getting Practical - ideas for Lessons.
When
Wednesday 18 January 2017, from 9am – 4pm.
Where
Norden Farm Centre for the Arts, Maidenhead
Whats included?
The full day course, plus breakfast, lunch and teas and coffee throughout the day
Cost
£60 (inc VAT) per person.
Reduced rate of £50 (inc VAT) per person for RBWM staff!
If you would like any further information, or would like to book please contact our Education Manager, Robyn Bunyan at robyn.bunyan@nordenfarm.org or call 01628 682563