Norden's Ark Appeal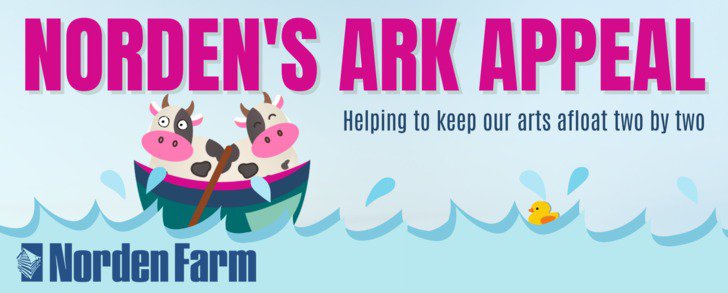 ---
Who will benefit?
You, and many thousands of our local community. These funds will help us continue creating and delivering – in both live and digital formats – our multi-arts entertainment and creative activities that our local audiences have come to love and expect from us. Whether you are a family in self-isolation, or a visitor who is shielding, we want to make sure we have a programme available.
---
Why do we need this funding now?
It costs £750,000+ each year to keep Norden Farm open as a vital resource for our local community. Our much-needed Culture Recovery Fund award, received on 12 October, will help cover our ongoing operational costs and offset substantial losses incurred during closure and as a result of restrictions due to the Covid-19 pandemic. We need additional funds to meet the increased demand from our audiences for both live and online programming; the Norden's Ark Appeal will make this possible.
---
How can you get involved in the Appeal?
There are many ways for you, your friends, family and work colleagues to support the Norden's Ark Appeal.
• Make a Norden's Ark Ticket Donation – from now until we can return to full capacity, every booker will be given the option to add a donation of £10 to their basket (the average value of an empty socially-distanced seat). Or you can also make a donation below
Thank you!
---
Make a Donation
---
We are here for you, our local community. Please join us.
Whether through our onsite, outreach or our virtual programmes, Norden Farm's aim is to connect and inspire people through arts and culture. We want to continue offering a safe but colourful haven for all, including the many amazing artists who pass through our doors. This has never been more important than it is right now.
We hope you will support our Norden's Ark Appeal so that we can continue supporting you
Thank you!
Jane Corry
Chief Executive & Artistic Director, Norden Farm
---
Thank you to all those who have pledged their support and donated so far:
Shanly Foundation | The Rotary Club of Maidenhead | Sean Egan | Tony and Mary Stock | Lalita Malik | Norden Farm's Maidenhead Boundary Walk fundraisers | Goyals of Maidenhead | Ardale Brown Solicitors | Rotary Club of Maidenhead Bridge | Councillors Stuart Carroll & Gurpreet Bhangra, Boyn Hill Ward, Royal Borough of Windsor & Maidenhead | Bray Parish Charities | and Norden Farm 2 by 2 Ticket Donors