Secondary Schools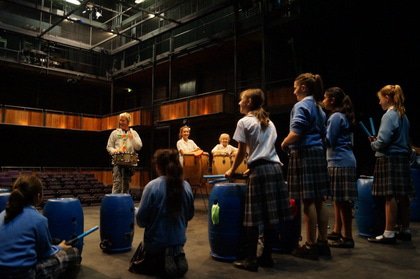 Farm Out Secondary
As well as the full programme of events which runs daily at Norden Farm, we have specially chosen events which can link to the national curriculum and offer further learning opportunities for Secondary schools.
Many of the live events which we have chosen for our secondary schools audience offer extensive education packs, and can include post show Q&A sessions and wrap around workshops.
Click here to download information about upcoming schools performances
We also offer workshops for secondary schools which can take place at Norden Farm or at your school and at any point in the year..
Click here to download information about workshops we can offer.
For more information about the Farm Out programme please contact either our Education Assistant, Sasha sasha.baughen@nordenfarm.org, or Education Manager, Robyn robyn.bunyan@nordenfarm.org or call 01628 682563.
---
The Norden Farm Roadshow
The Roadshow is a chance for us to get to know what you want out of the Farm Out programme - help us understand the way your school diary works, so we can help you access fantastic performances at Norden Farm.
Find out about the live cinema, theatre and special events which are coming up in the following season.
We are happy to fit around your hectic schedules. To arrange a roadshow meeting email our Education Manager Robyn Bunyan at robyn.bunyan@nordenfarm.org.