O
C
V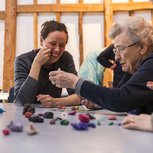 Creative Arts Social Club (online)
Led by professional artists Amelia Pimlott and Caroline Crawford.
Our sociable group for over 65s who want to make art, but just aren't doing it right now - goes online!
Professional artist Amelia Pimlott leads this creative community with visual artist Caroline Crawford. Explore your arty side, grow in creative confidence, and meet new people!
5-week blocks run via Zoom with additional ideas for activities to do during the week.
Mon 13 Jul - 10 Aug, Mon 17 Aug - 21 Sept, Mon 5 Oct - 2 Nov and Mon 16 Nov - 14 Dec
10.30am – 12.30pm
£75 per 5 week term + materials (list will be supplied)

Mon 13 Jul - 10 Aug: Natural World 1
Led by Amelia Pimlott

Using the theme of the natural world, we will use collage and decoupage techniques for a variety of 2d and 3d projects including producing a landscape inspired by Turner and creating designs for more decorative household items.

Mon 17 Aug - 21 Sept: Natural World 2
Led by Caroline Crawford
Continuing with the theme of the Natural World we will explore a range of different painting mark making and printing techniques using a combination of paints, papers, ink and things that can found around the house.
O
V
F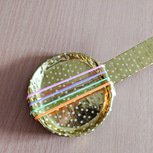 Kayleigh's Crafts - One Man Band! Musical Instruments (online)
Led by Kayleigh Galvin
Join Kayleigh online for weekly creative crafts throughout the summer holiday!
You can find your materials list through the link below, including some optional extra's to take your craft to the next level!
Suitable for ages 4+ years
Monday 10 August
10.30am - 11.15am
£5 per session
Booking cut off time: 9am on the day of each session
Upcoming crafts include:

Mon 27 Jul – Make Your Own Fantasy Castle
Mon 3 Aug – Out of this World Lava Lamp
Mon 17 Aug – Slime City!