F
C
C
Arts and Crafts Session
Craft activities to keep the little ones entertained this half term.
The crafts vary so you can create something new every day!
Monday 28 May – Circus (clown face and acrobat)
Tuesday 29 May – 3D Book
Wednesday 30 May – Blow football game and England flag
Thursday 31 May – Peter Rabbit and wheelbarrow
Friday 1 June – Mini Beasts (bug rocks and caterpillar)
Age guidance: 5-8 years.

£5 per child
F
C
S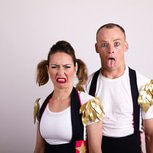 Children are Stinky
Presented by Circus Trick Tease.
Set in the 90s (with all your parents' favourite tracks) this is a show full of circus and hilarity. Children Are Stinky is packed with lighting fast hula hooping, dare devil balances, astounding strength and incredible acrobatics. It will leave children and adults with their jaws on the floor.
Age guidance: 3-12 years.

WHY? ★★★★★ Fringe Review | ★★★★★ Families UK | ★★★★★ Ed Festivals for Kids | ★★★★ The List

Courtyard Theatre
£10 (£8 under 16s)
Family and Friends (4 people) £32
Tickets/seats are not required for children under 18 months who are happy to sit on laps.
F
C
S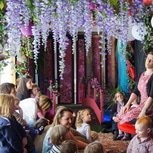 Storytelling
1.30pm and 3.30pm.
Join our storytellers in the magical story den this half term!
See below for details of each day's stories.
Mon 28 May - Yallery Brown
Tues 29 May - tbc
Wed 30 May - tbc
Fri 1 Jun - Pigs in Space!
Sat 2 Jun - tbc
Children must be accompanied by an adult. Adult spaces must be booked.
Age guidance: 3-7 years.