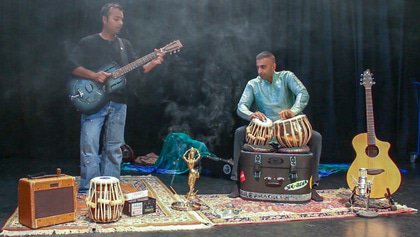 Following a visit to his ancestral home in India, critically acclaimed musician Ajay Srivastav sat on the banks of the Ganges playing his guitar when he encountered a Guru.
This brand new show takes us on a personal, spiritual and musical journey where Ajay, accompanied by renowned percussionist Vinod Kerai, explores the cultural influences that define him and and his music.
Through this we invite you into the smoked filled Juke Joint of Gods and Goddesses, Mojo hands and Charioteers. A place where we do deals with the Devil, kill our Karma, search for truth amid the lies, bear witness to illusions and rediscover the true meaning of home
Featuring music from Ajay's chart topping albums Powerless and Karmic Blues.
A night of music, myths and meditations that will lift your spirits.
'Brilliant.. spiritual and wonderful' Janice Long, BBC Wales
'Think Ben Harper having a late night jam with George Harrison just after he came back from a sitar lesson with Ravi Shankar' Groovemag
'A beautiful blend of musical cultures' Cerys Matthews, BBC Radio 2
Studio
£15 | £13 conc
Please prepare for your visit by reading our latest Visitor Information here. This includes important information about face coverings and measures we have implemented to keep everyone safe when visiting Norden Farm.