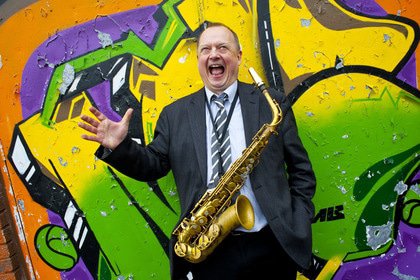 An evening of Jazz, live from the Courtyard Stage and programmed by the late Pat Kelly.
Alan Barnes is a multi-reedist supremo and an icon of the UK's Jazz musicians. His creativity is presented in his inimitable relaxed and witty style which both warms and excites.
Supported by his chosen rhythm section: Alex Hutton (piano), Andy Cleyndert (bass) and Clark Tracey (drums).
WHY? 'A brilliant multi-instrumentalist who's at home with the jazz repertoire of 30s and 40s swing, and the subsequent "modern" jazz style of bebop' The Guardian
Courtyard Theatre and Live Stream
£15
Booking cut off time: 7.30pm Fri 25 Sept
In line with current government guidelines, this event has a reduced capacity with socially distanced seating. This is subject to change as we monitor government advice. Seat numbers are also subject to change.
Online streaming tickets are also available for this event – so you can enjoy the show live from the comfort of your home.

Please prepare for your visit by reading our latest Visitor Information here. This includes important information about face coverings, social distancing and measures we have implemented to keep everyone safe when visiting Norden Farm.
---
If you have booked a ticket to watch from home via our website, you can access the live stream on the night of the event by clicking here and logging in to your Norden Farm account.
Click here for a guide to accessing live streamed events and for information on allocating tickets purchased for other households.
Recording of the show is strictly prohibited.