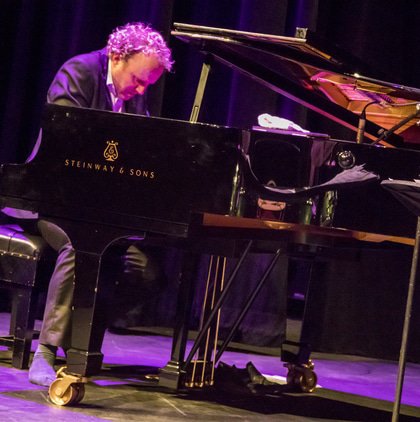 With special guest Graeme Flowers (trumpet).
The band was formed in late 2019 and quickly began to work as the resident band in a prestigious Brazilian Club in Berkeley Square Mayfair. 
Taking the core rhythms from Brazil but also Cuba and the Dominican Republic, the trio plays many of the precise rhythms from these rich sources. From Sambas and Rumbas, to Salsas and Afro-Cuban the trio combines the more familiar repertoire of Puente, Palmieri, Jobin with more obscure composers Mendez and Ruben Bladez.
However the band's strength and originality come from their approach to more familiar American Songbook classics - and to revitalise these standards through this colourful, happy and rhythmic lens shows how versatile the piano trio format is.
Live stream and encore tickets are also available for this event - so that you can enjoy from the comfort of your home.
Courtyard Theatre and Live Stream
£15 | £13 concessions
Live stream / encore screening ticket: £15 per household
Booking cut off time: 7.30pm on Thur 17 Jun
Encore screening: Sat 19 June 8pm
Can't make Thursday's live show? Or want to watch the gig again? There's a second chance to catch the show online with our encore screening on Sat 19 Jun - broadcast live via our live streaming platform at 8pm.
In line with current government guidelines, this event has a reduced capacity with socially distanced seating. Seat numbers are also subject to change.
Please prepare for your visit by reading our latest Visitor Information here. This includes important information about face coverings, social distancing and measures we have implemented to keep everyone safe when visiting Norden Farm.