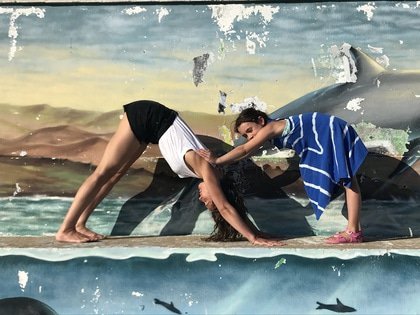 Led by Carly Brown
A class for parents/carers and their children. Connect and bond through movement and breath. Learn yoga postures, a gentle bedtime yoga sequence, meditations based on popular fairy tales and relaxation techniques. No previous yoga experience needed.
Bring one yoga mat (per pair) and one blanket each.
Suitable for ages 4 – 8 years, must be accompanied by an adult.
Sat 12 Sept, 10 Oct, 14 Nov, 12 Dec
2pm – 3pm
£15 per pair (1 adult and 1 child) or £55 for 4 sessions
Booking cut off time: 5pm on the Friday before each session
Please prepare for your visit by reading our latest Visitor Information here. This includes important information about face coverings, social distancing and measures we have implemented to keep everyone safe when visiting Norden Farm.
We have worked hard to ensure that you can enjoy your class or workshop while safely and socially distanced from other participants. While at your mat, face coverings are non-mandatory, but while moving around the space or venue, please wear a face covering to help protect yourself, your classmates and practitioner.