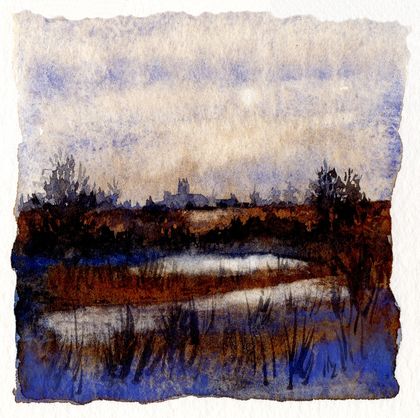 Led by Jo Hall
A colour mixing workshop to help you mix colours for rocky landscapes, stone walls, weathered surfaces and shadows etc. These are also invaluable for still life studies involving neutral stoneware or dried seed heads. These coloured greys mixed from primary colours, complementary colours or as the title suggests from blue and brown can give a painting unity where the pigments used appear elsewhere in the work. Colour mixing exercises will be followed by painting a rocky landscape or grey still life object.
Landscape reference supplied or bring your own. Some watercolour paper will be available at cost.
Please bring your own materials and scroll down to find more detailed info.
Sat 22 Apr
11am - 4pm
£40
Suitable for 18+ years
Materials info
Watercolour or gouache paints; just bring your existing box of tubes or pans.
A few notes on useful colours;
Blues like Cobalt or Ultramarine, also if you have it, a very dark blue like Prussian Blue.
Browns like Burnt Sienna and Burnt Umber will be very useful and also less essential; Red Iron Oxide, a reddish brown in all its forms which you may find in your box as Light Red, English Red and Venetian Red.
A good sized palette to mix your paint, plastic pipette of you have one.
Paper and equipment: cold pressed watercolour paper 300gsm, drawing board, tape or clips to fix paper to the board, block of wood about 2x2x6 inches or table easel to incline your board. Watercolour brushes, water pots, paper towel, small natural sponge, pencil
Some paper will be available at cost. Photo reference will be supplied or bring your own of a rocky outcrop, stone wall or weathered surfacegrey castle wall or even a grey stoneother grey still life object.