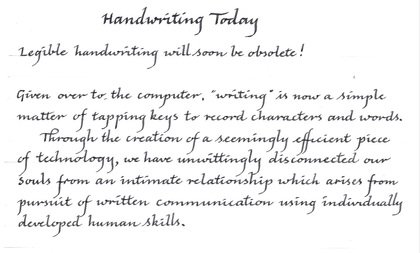 Led by Stuart Maxwell
This course is aimed at those who wish to improve their general handwriting.
In contrast to formal calligraphy, general handwriting is a form that requires very little in the way of materials and preparation. Lessons will cover legibility, letter shapes, joins and techniques.
A good pen (fountain pen, biro, rollerball etc), and some good paper are all that is required.
You can book to take part live at Norden Farm (places are limited) or online via Zoom.
This class will be running online only between Thursday 5 November and Wednesday 2 December.
Thur 15 Oct - 26 Nov (exc 29 Oct) (online only)
2pm – 4pm
£72 for the 6 week course
Booking cut off time: Thursday 15 October 9am
Suitable for ages 18+ years.
Face coverings must be worn while participating in these sessions.
Please prepare for your visit by reading our latest Visitor Information here. This includes important information about face coverings, social distancing and measures we have implemented to keep everyone safe when visiting Norden Farm.
---
How do our online classes work?
The classes will take place via a video stream on Zoom where you'll be able to use the camera and audio on your tablet, laptop or other device to see and hear the tutor and other participants.
You simply need to book on to your class or workshop of choice as normal by the cut off time. We'll then send you a booking confirmation email with a link to your session, password and a meeting ID.
If you'd like to learn more about joining a meeting on Zoom, click here for a handy guide.