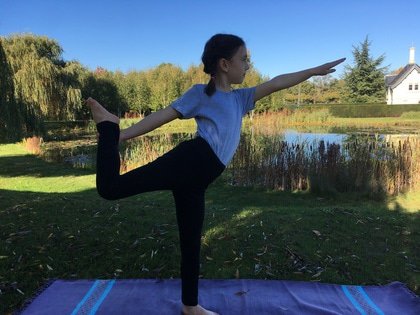 Led by Carly Brown
Yoga sessions designed for primary school aged children.

Explore lots of different yoga poses in a fun and gentle way. Using your imaginations, you will look at how nature and wildlife inspires many yoga poses and exercises, lion breath for courage, tree pose for strength, cat pose for flexibility for example.

We will then take a short savasana (blanket time) to classical piano music. This resting time allows all the work and play to settle into the children's bodies and brains. Each session will finish with a poem or reading.
Suitable of ages 5 - 11 years.
You will need one yoga mat and one blanket each.
Fri 18 Sept - 16 Oct and 6 Nov - 4 Dec
4pm – 4.45pm
£37.50 per 5 week term or £8 per session

Please prepare for your visit by reading our latest Visitor Information here. This includes important information about face coverings, social distancing and measures we have implemented to keep everyone safe when visiting Norden Farm.

We have worked hard to ensure that you can enjoy your class or workshop while safely and socially distanced from other participants. While at your mat, face coverings are non-mandatory, but while moving around the space or venue, please wear a face covering to help protect yourself, your classmates and practitioner.