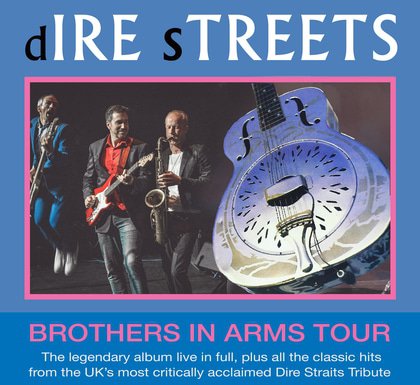 To celebrate the 35th Anniversary of the release of Brothers in Arms, Dire Streets – Europe's most critically acclaimed Dire Straits tribute act – will be playing the album live in its entirety.
Dire Streets are six of the UK's top tribute musicians, recreating the distinctive style of Mark Knopfler and Dire Straits with an attention to detail no other tribute can match.
The 2020 Brothers in Arms Anniversary Tour delivers a two hour show including a live performance of the album from start to finish, as well as all the classic hits from the band's other studio albums and legendary live performances.
From the classic rock riffs of Money for Nothing, the smooth jazz-tinged flavours of Latest Trick, and foot-tapping classics like Walk of Life to the epic guitar anthem title track, Brothers in Arms is a true classic album.
WHY? Join Dire Streets as they celebrate one of the greatest British rock albums of all time
Courtyard Theatre and Live Stream
£19
Booking cut off time: 7.30pm Sat 3 Oct
In line with current government guidelines, this event has a reduced capacity with socially distanced seating. This is subject to change as we monitor government advice. Seat numbers are also subject to change.
Online streaming tickets are also available for this event – so you can enjoy the show live from the comfort of your home.
Please prepare for your visit by reading our latest Visitor Information here. This includes important information about face coverings, social distancing and measures we have implemented to keep everyone safe when visiting Norden Farm.
---
If you have booked a ticket to watch from home via our website, you can access the live stream on the night of the event by clicking here and logging in to your Norden Farm account.
Click here for a guide to accessing live streamed events and for information on allocating tickets purchased for other households.
Recording of the show is strictly prohibited.