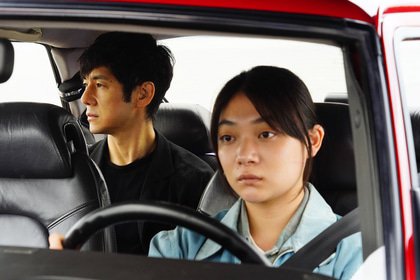 Dir: Ryûsuke Hamaguchi 2021 | 179 mins
Japanese with English subtitles.
Yusuke Kafuku ia a renowned stage actor and director. Two years after his wife's unexpected death, he receives an offer to direct a production of Uncle Vanya at a theatre festival in Hiroshima. There, he meets Misaki Watari , a taciturn young woman assigned by the festival to chauffeur him in his beloved red Saab 900.
As the production's premiere approaches, tensions mount amongst the cast and crew, not least between Yusuke and Koji Takatsuki, a handsome TV star who shares an unwelcome connection to Yusuke's late wife.
Forced to confront painful truths raised from his past, Yusuke begins, with the help of his driver, to face the haunting mysteries his wife left behind.
A haunting road movie travelling a path of love, loss, acceptance, and peace.
Winner of three prizes at the 2021 Cannes Film Festival, including Best Screenplay.
'Ryûsuke Hamaguchi reaches a new grandeur with this engrossing adaptation about a theatre director grappling with Chekhov and his wife's infidelity' ★★★★★ The Guardian
£10.50 | £9.50 conc
Three Films Ticket Offer
£9 / £8 conc tickets when you book for three films at the same time. Offer excludes event cinema screenings. Offer applied in basket.
Talking Tables
The screening on Tues 1 Feb at 8pm is a Talking Tables screening. These events aim to bring people together in a relaxed environment to discuss films, share ideas and most importantly - to meet new people! It is particularly aimed at people coming to Norden Farm on their own, but all are welcome. To take part, simply book in to see the screening, then join the group in the foyer before and after the film.
Please prepare for your visit by reading our latest Visitor Information here. This includes important information about face coverings and measures we have implemented to keep everyone safe when visiting Norden Farm.