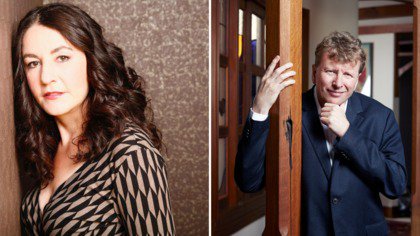 Presented by Maidenhead Music Society.
Jessica Duchen (author/narrator) and Piers Lane (piano) Present 'Immortal'.
To celebrate the 250th anniversary of the birth of Beethoven we have invited Jessica Duchen to read extracts from her recent book Immortal , the mystery of Beethoven's lost love whom he called Immortal Beloved. The readings will be interspersed with Beethoven piano music from Piers Lane, including the whole of his last piano sonata op 111.
Online streaming tickets are also available for this event – so you can enjoy the show live from the comfort of your home.
Courtyard Theatre and Livestream
£15
Booking cut off time: Thursday 19 November 7pm
In line with current government guidelines, this event has a reduced capacity with socially distanced seating. This is subject to change as we monitor government advice. Seat numbers are also subject to change.
Please prepare for your visit by reading our latest Visitor Information here. This includes important information about face coverings, social distancing and measures we have implemented to keep everyone safe when visiting Norden Farm.
---
If you have booked a ticket to watch from home via our website, you can access the live stream on the night of the event by clicking here and logging in to your Norden Farm account.
Click here for a guide to accessing live streamed events and for information on allocating tickets purchased for other households.