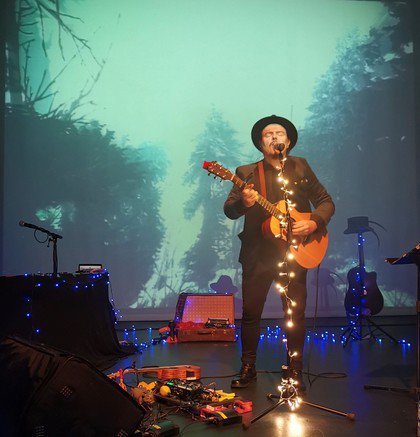 A special show of Jack singing songs of Leonard Cohen and Johnny Cash along with some of his own tunes.
Jack Lukeman is an Irish singer-songwriter, performer, raconteur and a whole lot more besides. A platinum-selling, critically acclaimed artist in his homeland, in recent years Lukeman has devoted more of his time to winning a growing fanbase in the UK and abroad. In this regard, he has toured the UK as Special Guest on tours by artists as varied as Imelda May, Jools Holland, The Proclaimers and Neil Sedaka.
Along with the rest of the world Jack's touring had all been moved several times then shelved. Finally, he returns to live shows in the UK, he hasn't been idle in lockdowns, having performed 26+ livestreams, all different shows having learnt songs by some of his favoured artists, The Beatles, Johnny Cash, Leonard Cohen and many more. A live lockdown album came from those sessions.
Lukeman is a compelling, dazzling stage performer. Incorporating the theatrical and romantic sensibilities of the likes of Jacques Brel, but with genuine melodic appeal and a knack for creating his own 'magic realist' world that is peopled by all manner of unusual, picturesque characters – Lukeman is a rare, unusual brand of performer.
During 2019 he took to the road in the UK with his own headlining shows, and more special guest appearances with Caro Emerald, The Proclaimers and Jools Holland – other highlights include opening for Sting in Bonn, Germany in July – offering yet more proof of the outstanding versatility and unique talent of Jack Lukeman. From clubs to concert halls, theatres to festivals, Lukeman has the performing power and compelling presence to win over the most demanding of crowds.
'The most magnificent and enigmatic of performers' Edinburgh Spotlight Magazine
With support from folk singer-songwriter Katy Rose Bennett.
Studio
£16
Please prepare for your visit by reading our latest Visitor Information here. This includes important information about face coverings and measures we have implemented to keep everyone safe when visiting Norden Farm.
Visit Jack's Website
Visit Jack's Facebook page
@jackllukeman
@nordenfarm