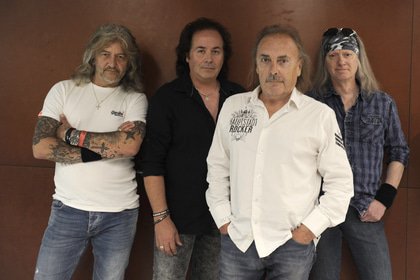 Featuring John Coghlan - The Heartbeat of Quo.
Original Quo drummer John Coghlan, with his great band, brings you a night of vintage Quo from the period he performed with Status Quo 1962 - 1981.
John Coghlan joined Francis Rossi and Alan Lancaster in their newly formed band The Spectres in 1962. The group went through a series of name changes, including Traffic Jam, before becoming Status Quo in the late 60s when Rick Parfitt also joined the line-up. In the years that followed, a string of chart-topping hits include: Pictures Of Matchstick Men, Caroline, Break The Rules , Down Down, Roll Over Lay Down, Rain, Mystery Song, Wild Side Of Life, Rocking All Over The World, Again And Again and Whatever You Want.
For Quo fans and critics alike, this time is often regarded as Quo's 'Classic' period.
Since leaving Quo, John has worked with many noted and diverse musicians, in his own Diesel Band; with Partners in Crime; and the Rocker' featuring Phil Lynott, Roy Wood and Chas Hodges. Other collaborations have included Noel Redding (ex-Jimi Hendrix) and Eric Bell (ex-Thin Lizzy).
In 2013 and 2014, John re-joined Francis Rossi, Rick Parfitt and Alan Lancaster for the two sell-out Status Quo Frantic Four Reunion Tours, appearing all over the UK and Europe and reigniting the excitement of the early days of Quo.
During the late nineties John Coghlan's Quo was formed and through various line-ups has enjoyed regular gigs all over the UK and Europe. The current band consists of John on drums, with Mick Hughes on guitar and vocals, Rick Chase on bass and vocals, Pete Mace on guitar and vocals, and Russ Chadd on percussion and additional drums completing the line-up.
The band enjoys playing all over the UK and Europe, with their prime aim to recreate an authentic '70's Quo Sound' in keeping with John's time with Quo. For Quo fans and critics alike, this time is often regarded as Quo's 'Classic' period.
Courtyard Theatre
£20
Please prepare for your visit by reading our latest Visitor Information here. This includes important information about face coverings and measures we have implemented to keep everyone safe when visiting Norden Farm.