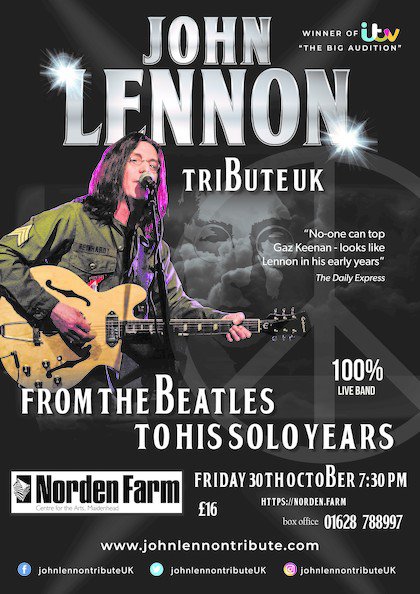 Visualise a young Lennon and you have Gaz Keenan. Add a highly professional backing band and from the start you know this is a live music experience you won't forget.
The Lennon Retrospective is a two hour show that promises to take you on a journey through John Lennon's popular back catalogue, serving up classic solos and Lennon penned early Beatles classics.
Fronted by Gaz Keenan, the band of professional musicians have played theatres countywide with the show, designed to offer an authentic Lennon experience.
A look alike and sound alike, Gaz featured in the ITV show The Big Audition which he went on to win. His ability to recreate John's soulful vocals alongside passionate guitar and piano work, is clear to see on stage. The show is stitched together with costume changes, uncanny mannerisms and caustic wit.
WHY? 'No-one can top Gaz who looks like Lennon in his early years' The Daily Express
Courtyard Theatre and Live Stream
£16
Booking cut off time: 7.30pm Sat 30 Oct
In line with current government guidelines, this event has a reduced capacity with socially distanced seating. This is subject to change as we monitor government advice. Seat numbers are also subject to change.
Online streaming tickets are also available for this event – so you can enjoy the show live from the comfort of your home.
Please prepare for your visit by reading our latest Visitor Information here. This includes important information about face coverings, social distancing and measures we have implemented to keep everyone safe when visiting Norden Farm.