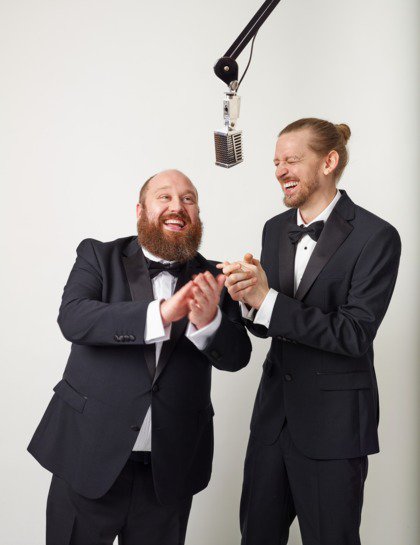 This is a show about grief. This is a show about loss. Just not how you'd expect. Dance Like It Never Happened is the funniest, most joyful and uplifting show you will ever see about feeling totally bereaved.
At the end of 2019 we lost another election and our place in Europe. But worst of all for us, we lost a friend we loved more than life.
This followed by the year that was 2020, and our decades-long system of dealing with grief - ignoring it, drinking heavily and making jokes - we finally broke. Totally.
In their most honest and personal show yet, Jonny & The Baptists learn to accept and engage with their grief, telling the story of denial, anger, bargaining, depression and acceptance through their trademark blend of silly, joyful songs, deadpan stand-up and riotous storytelling. Finding meaning, humour and beauty in the hardest part of life.

'Hilarious and moving throughout... Jonny & the Baptists will make you laugh until you cry and probably cry until you laugh, too. A must-see' ★★★★★ Sunday Post
'Wickedly funny' ★★★★ The Times
'Excellent, irresistible and winningly random' ★★★★ The Guardian 
'You'll mainly leave feeling warm and fuzzy.... note perfect' ★★★★ Metro
'Seriously funny' ★★★★ The Stage
'Yes, the brilliant musical rabble rousers have certainly given up politics. If only the rest of the Fringe could give it up in this way, we might change the world sooner' British Theatre Guide
Courtyard Theatre
£15
Booking cut off time: 7.30pm on Fri 13 Aug
In line with current government guidelines, this event has a reduced capacity with socially distanced seating. Seat numbers are also subject to change.
Please prepare for your visit by reading our latest Visitor Information here. This includes important information about face coverings, social distancing and measures we have implemented to keep everyone safe when visiting Norden Farm.