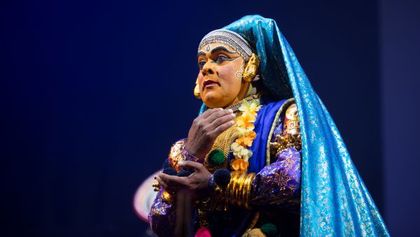 Kathakali is the classical dance drama of Kerala, south India.
It combines storytelling, dance, drama, ritual, vibrant costumes and an intricate makeup featured in the Guinness Book of Records as the most three dimensional make up in the world.
This powerful performance is presented by the internationally renowned Kala Chethena Kathakali Company. They are the leading Kathakali group outside of India.
Kathakali evolved from earlier temple art forms in the 17th century. It is based on Hinduism and is a highly charged powerful drama that combines devotion with performance to produce one of the most impressive forms of sacred theatre in the world.
This performance offers a rare opportunity to see Kathakali in this country, view the makeup, see the costumes, and meet the artists.
Before the performance starts a demonstration will illustrate how a Kathakali actor tells a story through emotions, facial expressions, characters, and gestures. A short film will take the audience back in time when Kathakali first emerged 600 years ago.
Kala Chethena Kathakali Company's website.
Studio
£15 | £12 conc
Please prepare for your visit by reading our latest Visitor Information here. This includes important information about face coverings and measures we have implemented to keep everyone safe when visiting Norden Farm.