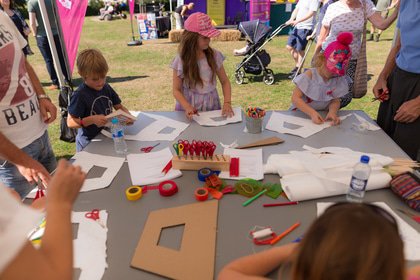 Get involved at Kite Making Workshops across the school holidays, then see your creation take to the sky!
The workshops are led by specialist kite makers, Community Kite Project.
In these drop-in sessions our practitioners will guide you through the process of making either the Patang Kite – the Indian Fighter Kite, or a classic Trapezoid Kite.
Make and decorate your kite to stand out in the sky at the Community Kite Festival which takes place in Boyn Grove Park on Sunday 1 September.
Kite Making Workshops
Saturday 24 August | 11.30am – 1pm and 2pm – 3.30pm
Workshops are suitable for all the family and tickets are £3.50 per person.
Please note a space must be booked for every person attending the workshop, including supervising adults
Pre booking for Kite Workshops is highly recommended.
We have experienced a huge demand for tickets for these sessions this year.
If you have tickets for a workshop you are guaranteed to make a kite at the session. During each session we may have a small number of tickets available on the door but to avoid disappointment please pre book.
Please note this is a Drop-In Workshop:
Our drop in sessions allow you to come down to the session at any time throughout the day – you don't need to get there for the start of the session! So you don't have to rush, but do make sure you leave enough time to get here, get park and get into the session!
Sessions run from 11.30am – 1pm and 2pm – 3.30pm, and at Norden Farm. You can make a kite in around 20 – 30 minutes with a bit of adult support!

Sunday 1 September | 1pm - 4pm
Join us at Boyn Grove Park (Punt Hill) for our Community Kite Festival. It's free to attend!
Bring your kite creations, pre-owned or shop bought kites and join our team to fly them on the hill. Everyone is welcome, with or without a kite!
As well as all the kite flying fun, the afternoon will include kite making, food from local vendors food from local vendors including the return of MD Ice, serving ice cream and sweet treats and Pizza Pals with delicious wood fired pizzas cooked with hand-stretched dough and home-made sauce.
Livity Kitchen bring food for the mind, body and soul! Offering healthy, delicious & ethical vegan food and Barbarian Grill Ltd bring their one of a kind American style BBQ grill smoker which burns wood right on the spot
And if you get thirsty a bar serving soft drinks and beer provided Marlow based Rebellion Brewery.
New for this year a live music stage featuring top local talent. The line up includes singer songwriters Horizon, Tara Deane, Cannibal and folk duo Tomorrow Bird. And a special appearance from local Eagle Claw Kung Fu school with their award winning Lion Dance.
At the event, there'll be the last chance opportunity to get creative and make your very own kite if you haven't already.
The free festival day workshop runs from 1pm – 4pm in Boyn Grove Park
To help make the best workshop experience for kite makers on the day, please book a free place at one of our workshop slots below:
1pm – 1.45pm
2pm – 2.45pm
3pm – 3.45pm
Your free ticket will ensure you can make a kite on the day (as long as you arrive for your selected time slot). On the day there will be a handful of drop in slots available for each time block, but we do recommend booking in to avoid disappointment
So head on down, enjoy the spectacle and celebrate with the community!
Click here to visit the Community Kite Festival event page.

With thanks to our funders: Shanly Foundation, RBWM, The Louis Baylis (Maidenhead Advertiser) Charitable Trust, and The Cyril Taylor Charitable Foundation.