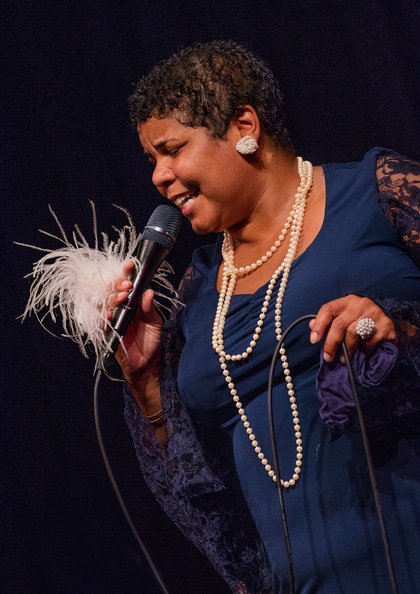 Building on her passion for the "Empress of the Blues", Julia Titus formed her Pig Foot Band in mid-2015 to share the music of Bessie Smith and her contemporaries, with a new generation of listeners.
Mixing Julia's rich, warm vocal sound with a dynamic band that look and sound the part, Ma Bessie and her Pig Foot Band perform classic blues and jazz tunes from the inter -war years with a selection of original songs and hand -picked covers from the last 50 years of popular music.
The Ma Bessie repertoire includes classics such as Careless Love, Nobody Knows When You're Down And Out and, of course, Gimme A Pig Foot (And A Bottle Of Beer).
Featuring
Julia Titus (Ma Bessie - vocals)
Matt Foster (guitar)
Michael Wilkins (saxophone)
Andy Wilkin (percussion and vocals)
Studio
£15
Please prepare for your visit by reading our latest Visitor Information here. This includes important information about face coverings and measures we have implemented to keep everyone safe when visiting Norden Farm.