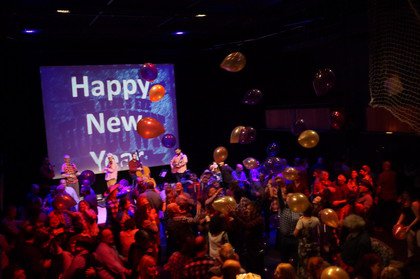 Heck yeah, it's our most glamorous, glittering hoedown yet!
Our popular New Year's Eve event returns to ring in 2020!
Dance the night way on our Courtyard Theatre dance floor to live music from ceilidh and barn dance band Cut a Shine.
The band's line up features special guests Stompin' Dave and 'Hippy Joe' Hymas of Hayseed Dixie. No experience is necessary as their caller will be on hand to guide you through all of the steps!

The live music continues with break-out live music sessions from Stompin' Dave and Jolene between sets in El Norden's Barn. There may even be the chance to get your requests in and sing with the band!
The evening also features sparkling sing alongs in our Studio Saloon Bar, hosted by cabaret star Miss Em.

Grab a drink from our fully stocked bar, challenge someone to a table top game or Cowboy Quoits in the barn. Not forgetting some pinata fun in the Long Barn!
Dust off your cowboy hats, rhinestone adorned outfits or most glamorous attire for a night of unforgettable fun at the Farm!
With everything on your doorstep, there's no need to head into the city this New Year. We've got a great celebratory evening at a fraction of the price, with a relaxed and friendly atmosphere.
WHY? A fun, lively and thrilling way to celebrate this New Year's Eve!
Age guidance 12+ years
Norden Farm
£25, Supporters £22
---
Running Order
8:30pm - 8.50pm Cut a Shine, playin' live in the Bar
8.50pm - 9:00pm Intermission
9:00pm - 9.20pm Singalong with the Divine Miss Em in the Saloon / Stompin Dave and Jolene playin' live in El Norden's Barn
9.20pm - 9.30pm Intermission
9.30pm - 10.10pm Hoedown in the Courtyard
10:10pm - 10.25pm Intermission
10:25pm - 10.45pm Stompin Dave and Jolene playin' live in El Norden's Barn / Singalong with the Divine Miss Em in the Saloon
10.45pm - 11.15pm Intermission
11.15pm - 11:55pm Hoedown in the Courtyard
11.55pm - 12.00am Countdown
12:05am - 12.20am First Dance of 2020
12.20am - 1.00am Final Jars
1:00am Waggons
(Timings are approximate and subject to change on the night)
---
Dress Code
All kinds of Party
Cowboys and Girls (the more rhinestones the better!)
Gingham and Checks
---