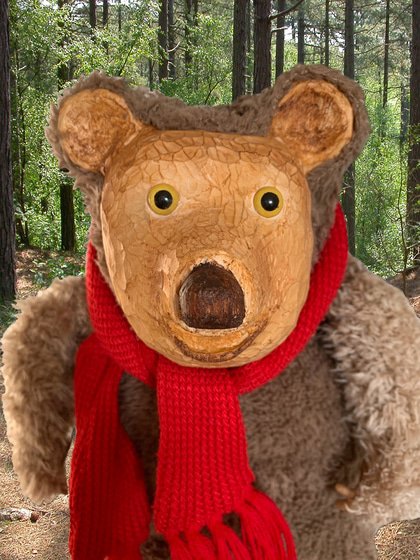 The first of three shows coming to the Norden Farm stage for Christmas 2020.
Oldilocks finds a teddy bear in the park and remembers a delicious bowl of porridge she tasted years ago in the woods. Something else happened but she can't quite remember what… so she sets off for the forest.
Join Oldilocks as she sets off for another adventure followed by a scruffy old pigeon. Will she find the bears' house and what will happen then?
A wonderfully funny and warmhearted celebration of the classic story, starring a naughty old lady who looks very familiar… and 3 funny bears who love their breakfast.
Expect to be spellbound by lovingly crafted puppets, music and some steaming bowls of porridge!
The latest show from Garlick Theatre, who have perviously brought Eggs on Legs, Three Billy Goats Gruff and Three Little Pig Tails to Norden Farm.
Age guidance 3+ years
Courtyard Theatre and Live Stream
Run time 50 minutes.
£13.50 | £11.50 under 16s
Family & Friends Ticket (4 people) £46
Earlybird Family & Friends Ticket (4 people) £40 (before 31 Aug)
Livestream Ticket £15 per household

In line with current government guidelines, this event has a reduced capacity with socially distanced seating. This is subject to change as we monitor government advice. Tickets can be purchased as unallocated and seats will be assigned before the event.
Online streaming tickets are also available for this event – so you can enjoy the show live from the comfort of your home.
---
Once you have booked your live stream ticket, you can access the live stream on the day of the event by clicking here and logging in to your Norden Farm account.
Click here for a guide to accessing live streamed events and for information on allocating tickets purchased for other households.
---
How do our online events work?
This event will be streamed live via Norden Farm's online events platform. You simply need to book for the event as normal by the cut off time.
A link to access the stream on your device (computer, laptop, tablet etc) can be found above, alongside a link to our guide to accessing the stream and allocating additional tickets purchased for other households. These details will also be sent to all bookers shortly after the booking cut off time, before the event begins. You will need to know the login details for your Norden Farm online account to access the streaming page.